Last One Standing October 1st 2022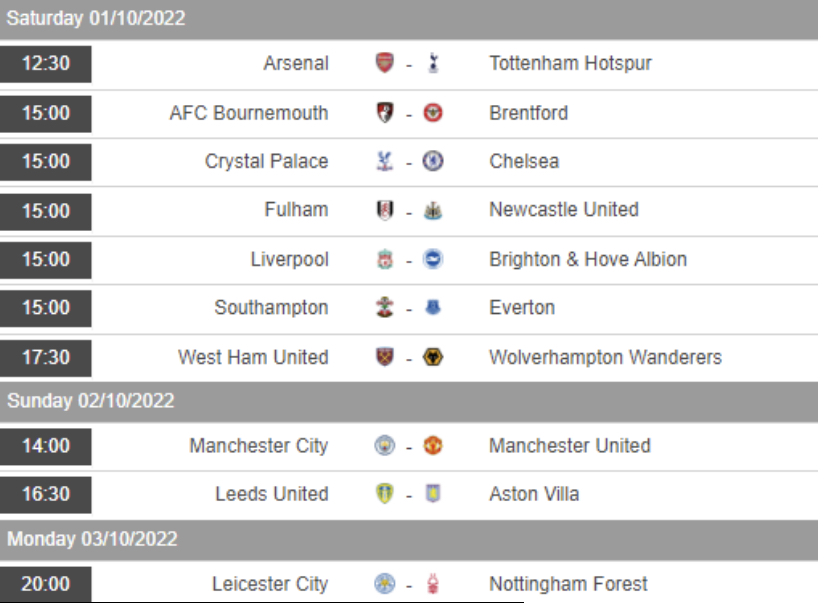 Select a team from the drop down list below for the following Fixtures for weekend of the 2nd of October . The overall winner will win or share on the jackpot of €500.

Arsenal v Tottenham
AFC Bournemouth v Brentford
Crystal Palace v Chelsea
Fulham v Newcastle Utd
Liverpool v Brighton
Southampton v Everton
West Ham v Wolverhampton
Manchester City v Manchester Utd
Leeds Utd v Aston Villa
Leicester v Nottingham Forest

If your team wins round 1 you progress to round 2 and the club will be in contact for your next team selection.
HOW TO PLAY – RULES
It's simple; just pick the winner of one (1) Premier League match each "week". If your selection wins you progress to the next "week" …lose or draw and you're out. !!!
You may not pick the same team to win more than once during the tournament.
After the completion of "week 1" text your selection for week 2 to 087-9655447 and include your team name. All selections must be received no later than 7pm on the date prior to the 1st game of the "week" .e.g. for "Week 2" entries must be in by 7pm on the Friday 15th of October.
Should you forget to make your selection in any week, or select a team you have already previously selected in the tournament- you will automatically be assigned the first team that you have not selected in alphabetical order. Once a team is automatically selected, you will not have the ability to change the selection.
Should two or more participants remain standing and they are all eliminated in the same week, the Last person Standing prize will be distributed equally among them. If there is more than one person left standing after the week 12 fixtures the prize will be divided equally among those still left standing.
Notification: Participants will be notified by text to inform them if they are through to the next round. Please ensure that the mobile number you have included on your registration is correct. Inclusion of e-mail address will allow you receive player matrix of your league to see how others are doing, and their selection for the "week"!
You can have more than one entry into the competition; it is 10 euro per entry. The Closing date for entries is Thursday 29th of September.


€10.00
Select